Salad with Homemade Vinaigrette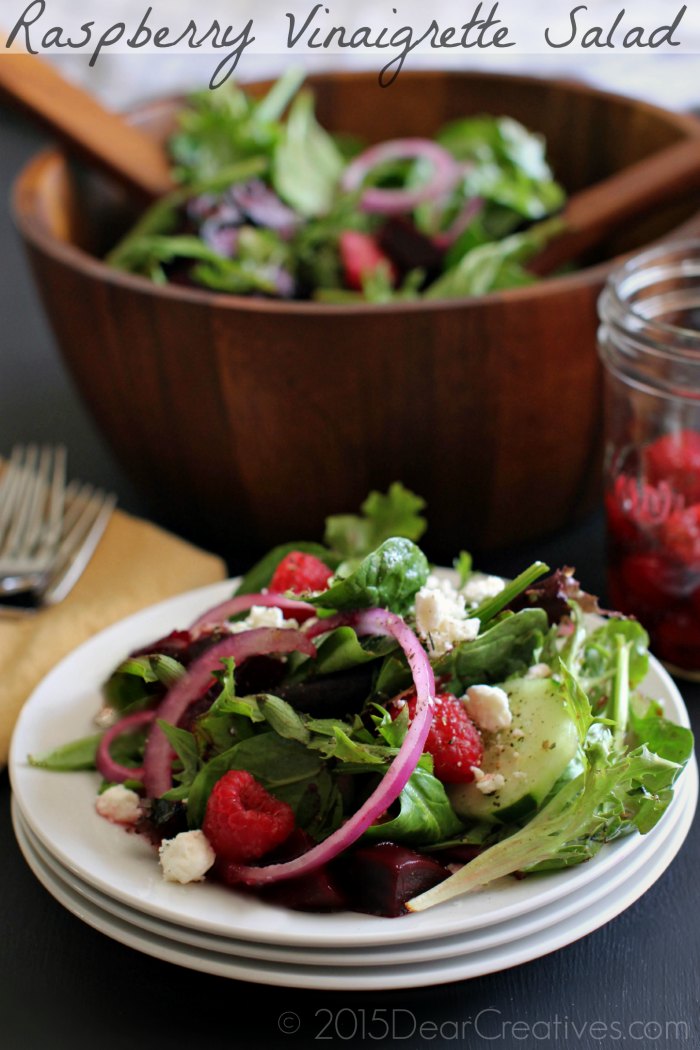 Author:
Theresa Huse for Penney Lane
6 oz.red raspberries
Organic Spring Mix /Baby Spinach (we used Earthbound Farm Organic Half & Half)
cucumber 1 large
Gourmet Red Wine Vinegar
Olive Oil
Crumbled Feta Cheese
Red onion
Fresh Beets
Italian Seasoning
Cracked Pepper
Salt (pinch)
One week ahead of time make your raspberry vinegar.As I mentioned you can do it the same day but, it won't be as flavorful. I used a canning jar, add in washed dried raspberries and cover with the organic red wine vinegar, keep at room temperature.
Cook your beets ahead of time, let cool and cut into bite sized pieces.
Rinse your half and half organic lettuce and pat dry.
Slice your red onion, wash and cut your cucumbers.
Now your ready to assemble add all the ingredients to the bowl minus any dressing!
When you plate add the raspberry vinegar, olive oil, two pinches Italian seasoning, cracked pepper and pinch of salt. Toss lightly if you want. Then add Feta cheese crumbles and a few of the big juicy raspberries.
Notes:
If you want you can measure ⅓ vinegar to ⅔ olive oil as a ratio. If tomatoes are in season they are a great addition. Adding Pine nuts or slivered almonds is nice too when switching things up. If you don't wait a week for your vinegar you can crush few up and add to the salad if you like.
Recipe by
Penney Lane
at https://penneylane.com/salad-with-homemade-vinaigrette/