We used to live on a small ranch in northern California. We always had a garden I would get up before the kids to water and enjoy coffee outside doing my gardening chores. We always had fresh onions, zucchini, peppers and tomatoes among other vegetables. My middle daughter always would join me sitting in her pajamas in the yard, then playing with a shovel and pail. Summers were always full and bountiful. One of our favorite dishes I made was a Pork Tenderloin Recipe: Braised Pork Tenderloin With Zucchinis and Peppers.
What I loved about this recipe is that you just grab your fresh vegetables from the garden or market. Wash, cut and set them to the side. Then you braise the pork tenderloin on the outside. Place your pork tenderloin in the baking dish. Then also pour the juices into baking dish and toss in your fresh cut veggies. Lastly you add the spices and finish by baking in the oven at 20 min. per pound.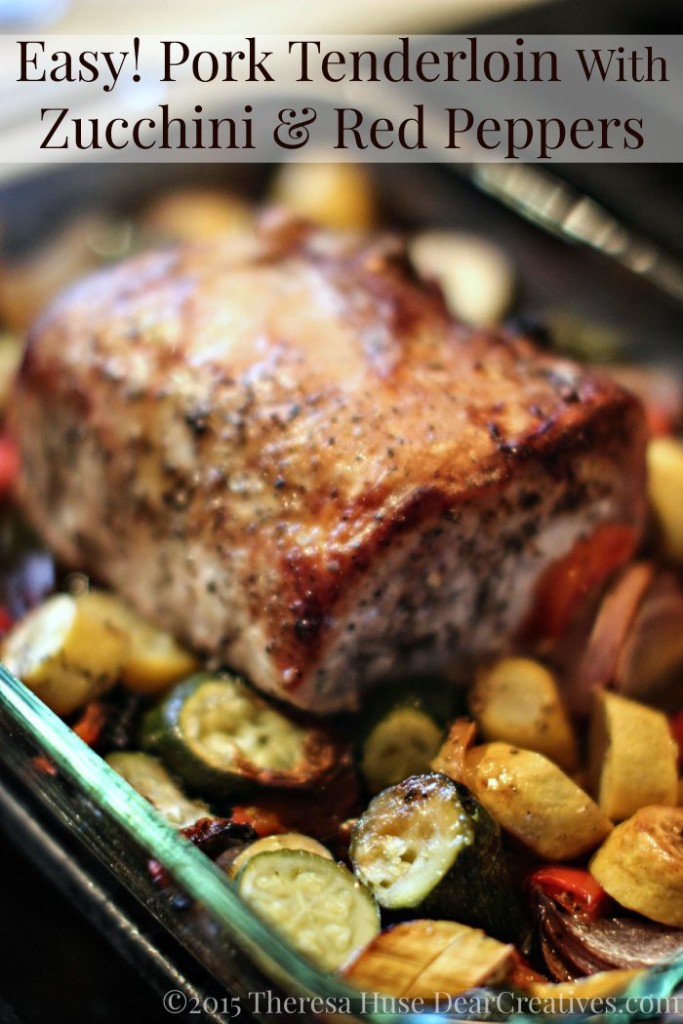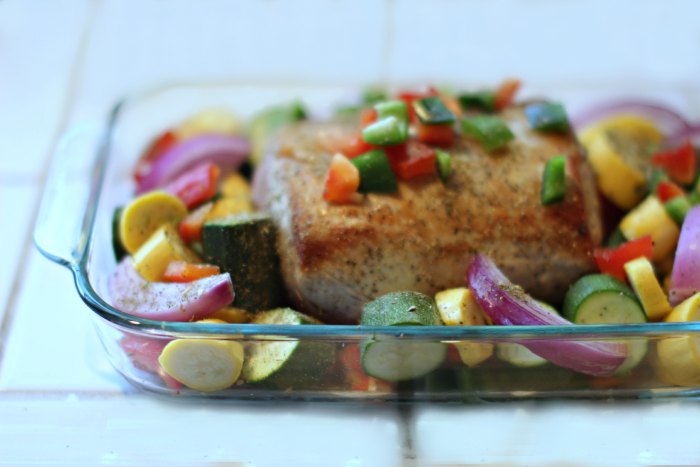 Prior to putting your pork tenderloin into the pan be sure to braise the meat. This is what tenderizes the meat to help give it it's flavorful finish. I use a medium/low heat. After in the pan with the vegetables it's cook time are fairly quick per pound which means for roughly a two pound pork loin you'll have dinner on the table in about one hour!

Pork Tenderloin with Zucchini and Red Peppers
Tender pork tenderloin with the best of summer vegetables.
Author:
Theresa Huse for Penney Lane
Ingredients
2 lb Pork Tenderloin
3 green zucchini
3 yellow zucchini
½-1 purple onion
1 red poblano pepper (or jalapeno pepper) seeded
garlic powder
Italian Mix Spices
cracked black pepper corn
olive oil
Instructions
Cut up zucchini, red bell peppers and onions.
Chop poblano pepper or jalapeno (seed- to reduce heat)
Set Veggies to side in a bowl.
Place Pork Tenderloin in 2 tablespoons of olive oil and set in a non stick pan, sprinkle with garlic powder and cracked pepper. (about 1 tsp. each)
Braise Pork Tenderloin in the 2 table spoons olive oil until brown on both sides, when you flip it over sprinkle with garlic and pepper again.
Place in baking pan fat side up.
Pour juices from pan into baking dish.
Add Cut up veggies and chopped poblano pepper.(make sure some of the peppers are on top of the roast for flavoring)
Add 1 tsp. Italian spices to the veggies and little on roast if you like.
Bake in oven 20 min per pound until minimum food safe temperature is reached see notes.
What I love about pork tenderloin is it's an easy dinner recipe. Your pork tenderloin might give you left overs depending on the size you make. Which is great for sandwiches or picnics. You can serve your pork tenderloin recipe with anything from rice, potatoes or any type of side salads. I love preparing my side dishes ahead of time which means I can do other things while it's baking.
This cut of meat is delicious and tender. Just be sure not to over cook. One way to ensure you have the proper temperature is have a good meat thermometer! You can check your meat as it's cooking ensure it's reached the correct internal temperature *see notes. Remember to give the meat a rest prior to slicing. Not only does the meat finish cooking but, it allows you the ability to better handle it for slicing.
In the summer we prep it the same but, cook ours in our gas grill, with lid closed. This way it doesn't heat up the house in the summer. I hope you enjoy this recipe and it's leftovers any time of year!
When was the last time you cooked a pork tenderloin?
Notes:
Cooking temperatures for pork tenderloin baking at 20 min.per pound until minimum food safe temperature is reached. (medium rare 145 degrees with a three minute rest time is perfect for small cuts and for larger cuts up to 160 degrees – take tenderloin out at 150 degrees and let rest for 10 minutes) * USDA Pork guidelines
FACEBOOK
//
TWITTER
//
PINTEREST
//
INSTAGRAM