What's one of the most eaten vegetables in your home? In ours it's salads it's the one thing we all can agree on. Often times pulling out the pre-made bottled dressing. I'm not going to lie bottled is  super convenient and if you really look at the gourmet dressing the prices start going up, up and up. Today's recipe that I'm sharing is a super easy to make salad and has an easy homemade vinaigrette dressing.
Now don't worry if you think the kids won't like a raspberry dressing, as I know their palate might not be ready for such a spring delight. Not to worry as you make up your big bowl of salad then make the dressing separate pouring it over the individual plates and garnishing to taste. There will be a lot room for varying this recipe which will make it fun. We have often bought raspberry dressings from the store but, on this particular shopping trip my husband brought home these luscious, red, juicy looking first of the season raspberries. That got my wheels turning.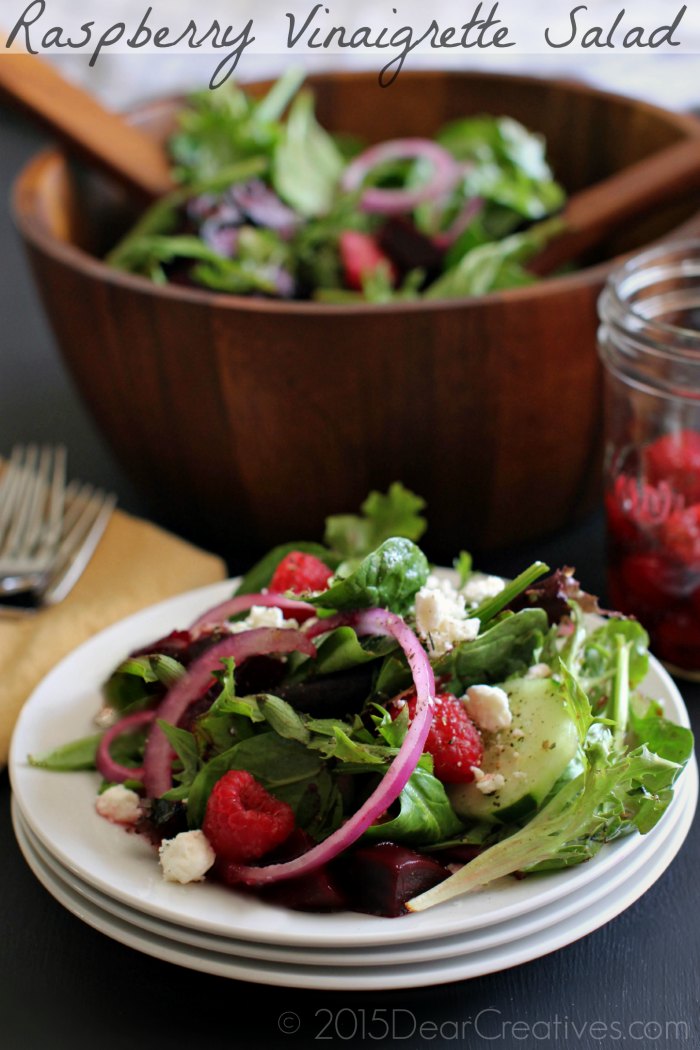 Bon Appetit Raspberry Vinegar instructions.

Salad with Homemade Vinaigrette
A delicious blend of flavors make a homemade raspberry vinaigrette perfect for a spring salad.
Author:
Theresa Huse for Penney Lane
Ingredients
6 oz.red raspberries
Organic Spring Mix /Baby Spinach (we used Earthbound Farm Organic Half & Half)
cucumber 1 large
Gourmet Red Wine Vinegar
Olive Oil
Crumbled Feta Cheese
Red onion
Fresh Beets
Italian Seasoning
Cracked Pepper
Salt (pinch)
Instructions
One week ahead of time make your raspberry vinegar.As I mentioned you can do it the same day but, it won't be as flavorful. I used a canning jar, add in washed dried raspberries and cover with the organic red wine vinegar, keep at room temperature.
Cook your beets ahead of time, let cool and cut into bite sized pieces.
Rinse your half and half organic lettuce and pat dry.
Slice your red onion, wash and cut your cucumbers.
Now your ready to assemble add all the ingredients to the bowl minus any dressing!
When you plate add the raspberry vinegar, olive oil, two pinches Italian seasoning, cracked pepper and pinch of salt. Toss lightly if you want. Then add Feta cheese crumbles and a few of the big juicy raspberries.
Notes:
If you want you can measure ⅓ vinegar to ⅔ olive oil as a ratio. If tomatoes are in season they are a great addition. Adding Pine nuts or slivered almonds is nice too when switching things up. If you don't wait a week for your vinegar you can crush few up and add to the salad if you like.
This is the type of salad that reminds me of going to an outdoor cafe. Your server comes over to make the salad right in front of you. Note they never use a measuring spoon. They ask you if you'd like cracked pepper and you tell them to stop. They gently add a few pinches of Italian herbs, pour a little vinegar and then start drizzling the olive oil over the lettuce. They take a spoon, dip it into a bowl and pull out the freshest crumbled cheese adding to the salad. Nuts or no nuts….
Oh, sit back to enjoy the sun on your face, napkin is on your lap and the company is so good you hardly notice them gently toss the salad. They retreat, you lift your fork and before you know it you have eaten half your salad. Amazing!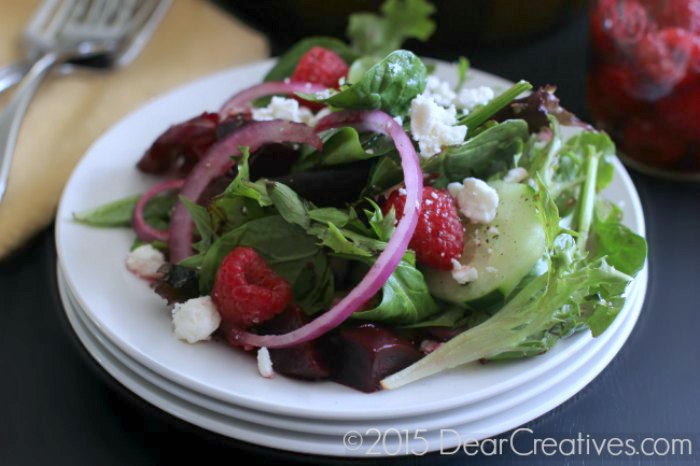 Good salads can be had year round but, great ones end up having your favorite things added to them. Some of my must have's for a salad are freshly cooked beets, red or green onions, Italian seasoning and sometimes fresh crushed garlic. Topping with my favorite Feta cheese and if you like pine nuts or almonds completing the crunch factor. I have to admit on occasion I've only let my raspberries sit a day but, the more you let them sit in the vinegar the more flavorful they vinegar dressing will be.
This is probably one of those salads that will be perfect for a brunch, luncheon or dinner but, I've been know to eat salad before noon if there is any left over.
You can find the salad bowl set here (affiliate link).
Enjoy! Until, next time my new friends~
FACEBOOK
//
TWITTER
//
PINTEREST
//
INSTAGRAM